FM 200 is a form of clean agent fire suppression that can be used in areas where water cannot. FM 200 is a common fire suppressant because it is fast, safe and effective.
What is FM 200?
FM 200 fire suppression is a clean agent extinguishes a fire through heat absorption. It is a heptafluoropropane. FM 200 is stored as a liquid in cylinders that are pressurized and when it's discharged it vaporizes. After being discharged, it quickly extinguishes a fire, leaving behind no residue.
Benefits of FM 200 Suppression
There are many benefits of choosing FM 200 for fire suppression that make it a great option for many properties. Some benefits include:
Fast reacting
Leaves behind no residue
Does not harm sensitive equipment
Highly effective
Electrically non-conductive
Safe for humans
Can be used in many applications
Does not require costly clean up
Discharges quickly
Accepted replacement for Halon 1301
Where Is FM 200 Used?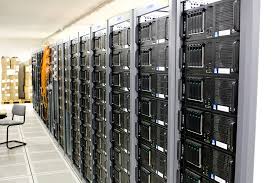 FM 200 fire suppression is a common choice for fire suppression in properties where water is not an option. It is used in buildings with sensitive equipment or valuable assets that could be ruined by water. Some common places FM 200 is used are data centers, telecommunications facilities, computer rooms, museums, historical archives, art galleries and record storage facilities.
Contact Davis-Ulmer for Fire Suppression
Davis-Ulmer Fire Protection designs and installs fire suppression systems. We can design an FM 200 fire suppression system that fits the needs of your facility. Our technicians will install the system as well as provide ongoing service.
At Davis-Ulmer, provide inspections, service and repairs for fire suppression systems. We want to help you remain in compliance with NFPA and local code and give you the peace of mind that your facility is protected. Set up a service plan with us for regular inspections and service of your system. We provide 24 hour emergency service for unexpected problems.
Contact Davis-Ulmer today to learn more about FM 200 systems and the services we provide!