Having a fire protection system installed in your building will improve the life safety of the people in the property. However, a fire protection system is useless if it does not function properly. The best way to make sure your system is ready to act when a fire occurs is to have it serviced regularly.
How often should your system be serviced?
It can be difficult to know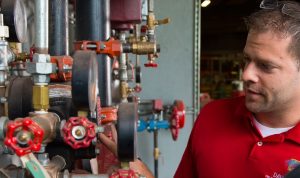 how often your fire protection system needs to be inspected and tested. The frequency will depend on the type of system as well as NFPA standards, local code, and insurance requirements. NFPA 25 is the standard for inspection, testing, and maintenance of water-based fire protection systems. Your fire sprinkler system should be inspected and testing as often as required by NFPA 25. The standard for inspection, testing, and maintenance of fire alarm systems is NFPA 72.
Benefits of having your system serviced
Servicing your fire protection system can have many benefits. Regular testing and inspection will make you aware of any problems your system may have so it can be repaired as quickly as possible. When your system is up to date you can have peace of mind that your building is protected and that the people in your building are safer from a fire.
Having regularly scheduled inspections and testing can allow you to have discounted insurance premiums which will save you money. In addition, having your system serviced in accordance with codes and standards will help you to avoid fines for noncompliance. It will also save you money if a fire does break out by limiting the amount of damage that is done to your building.
Enlist the Help of a Fire Protection Company
A building manager may be able to perform quick visual checks of fire protection systems but when it comes to more complex inspections and testing, you will want to turn to the experts. Hire a fire protection company that can perform in depth testing, inspection, and repairs for your systems. Fire protection professionals can help you make sure your system is running the way that it should be. A fire protection company will keep the inspection and testing records on hand should you ever need them and many even offer 24-hour emergency services if customers need immediate repairs.
Fire Protection Services from Davis-Ulmer
Davis-Ulmer provides fire protection services to buildings in New York, Connecticut, New Jersey and Pennsylvania. We install, inspect, test, and repair a wide variety of fire protection systems. We are committed to providing high quality systems and services to our customers. We have technicians ready to help you 24 hours a day, 7 days a week for emergency repairs. Contact Davis-Ulmer to learn more about the fire protection services we offer.