Fire protection refers to measures and practices that are taken to prevent destruction and major impacts that may occur from a fire. Fire protection lessens the unwanted effects of a fire and works to save lives and valuable properties. The measures taken may include studying the risks and causes of fires, research and development of equipment production, designing, installing, maintaining, and inspecting of fire systems, and much more. There are so many things that go into fire protection that all work to save the lives of people and their property.
Are You a Team Player and Looking for a New Challenge Where the Work You Do Makes an Impact on Other People's Lives?
Working at a fire protection company can be considered a rewarding challenge. At Davis-Ulmer, we are like a family that works to protect other families by providing them with all of their fire protection needs. At Davis-Ulmer, we develop leaders that put forth innovative solutions and the finest customer service. From our technicians, to our designers, to our administration, everyone works together to give our customers the best fire protection products and services.
Albany Career Day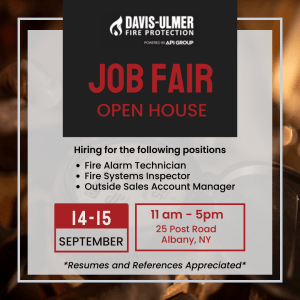 Looking for a career change in the Albany, New York area? Davis-Ulmer is hosting a career day at their office located in Albany, NY. Walk-ins are welcome between 11am and 5pm! Come visit to learn more about Davis-Ulmer, the team, and the career opportunities.
When: September 14th and 15th from 11am to 5pm
Where: 25 Post Road, Suite 4 Albany, NY 12205
Why Join the Davis-Ulmer Team?
At Davis-Ulmer we provide an enjoyable and rewarding working experience for our employees. At DU we find importance in our companies' cultures and values. We also provide training to develop our employees into giving the highest level of fire protection services they can give. The Davis-Ulmer company is dedicated to developing leaders who can make a difference in the fire protection industries. Our employees are family which is why our benefits are not temporary but are ingrained within the levels of our organization.
Find Your DU Career Fit
We have positions open across all of our locations which include New York, Massachusetts, Maryland, Pennsylvania, Connecticut, New Jersey, Maine, and Florida. Open positions vary among locations, but these positions include: administration, design, technician, sales, and much more.
Hiring the following positions at Albany, NY:
We are looking for individuals that are:
Team players
Hard working
Innovative
Have ability to adapt to new technology
Are customer oriented
Are You A Good Fit for the DU Team?
If you are interested in one of our available positions and believe you would be a good fit to the Davis-Ulmer family, then we would love to meet you! Join us on September 14th or 15th to meet the team, learn more about what we do, and how you can benefit our team. Refreshments and snacks will be served, and walk-ins are welcome! Resumes and references are appreciated. We look forward to meeting you!
*If you are not located in the Albany, NY area, but are looking to join the Davis-Ulmer family, visit our careers page to see our current job openings. Apply today!