Most people are familiar with fire alarms, where occupants inside a building are able to be notified when a fire is present. Fire alarms are a key component to the safety of the building, employees, visitors, and the structure itself. What some people are unaware of is taking the safety step further with fire alarm monitoring. Fire alarm monitoring is a system that automatically notifies necessary responders, such as the fire department, in the event of a fire.
How Does Fire Alarm Monitoring Work?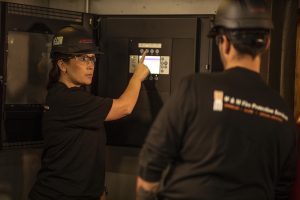 Fire alarm systems are necessary because they notify the occupants of an emergency, but who notifies help to come put it out? There are a lot of cases in which the call to 911 is delayed and the damage to the building or injured employees is increased. In other situations, there may be a fire when nobody is present or the call to 911 is assumed, in this case damages can be even more detrimental.
With fire alarm monitoring, as soon as a fire is detected by the system, a signal will be sent out to a third-party monitoring station. This monitoring station will then dispatch your central fire station to respond to the emergency. The fire alarm monitoring system is quick and efficient to get the help you need, saving valuable time in the event of a fire.
Benefits of Fire Alarm Monitoring
There are many benefits of installing fire alarm monitoring systems into your buildings including:
24/7 watch protection of the building so that it is monitored even when you are not there
Fast and efficient signals, reducing the time for the fire department to get there
Faster response time leads to higher safety for employees and less damage to the building
Allows for occupants to only worry about getting themself out safely, while the monitoring system does the rest
Reliability in the system to communicate with the appropriate responders
Are Fire Alarm Monitoring Systems Necessary?
It is easy to think that anyone is capable of calling responders when a fire alarm sounds, but in this type of emergency the monitoring system is necessary. When a fire alarm sounds, what is everyone's priority? To get out or to call the fire department? In this type of emergency, people's first priority is to get out, which is the only thing they should have to worry about. With a fire alarm monitoring system, occupants only have to worry about the safety of themselves and the fire department will be dispatched without delay. This system can both save lives as well as property damages to your building.
Davis-Ulmer's Fire Alarm Monitoring Systems
At Davis-Ulmer Fire Protection, we provide you with the 24-hour fire alarm monitoring protection you are looking for. The 24-hour alarm monitoring systems we offer include fire, security, fire pump signals, sprinkler water flow, supervisory signals and more. Davis-Ulmer offers their customers features like a mobile app to manage your building or buildings so you can view the signals, put your system to test, or update your sources of contact. Contact Davis-Ulmer Fire Protection today to learn more about our fire protection systems and installations.