Commercial buildings such as offices, retail centers, multifamily residential buildings and hotels need effective fire alarm systems to keep employees, residents, and guests safe. Early detection and warning of a fire buy the critical time needed for people inside the building to escape safely.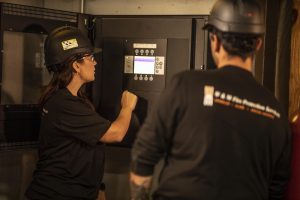 Designing a Commercial Fire Alarm System
Fire alarm systems should be designed to meet the needs of your facility. Alarm systems can be either simple or complex, depending on the type of building. Fire codes and standards also determine the design of a fire alarm system. Things to consider when designing a commercial alarm system include:
Code compliance
Reducing false alarms
Ease of maintenance
Technology advancements
Integration with emergency communication
It is important to take these things into consideration when designing an alarm and detection system for commercial facilities. Typically, a fire alarm system consists of a fire alarm control panel, initiation devices and notification devices. You can elevate your alarm system through voice evacuation, alarm monitoring and better technology.
Networked Fire Alarm Systems
Large commercial buildings including high rise offices and commercial campuses may consider installing a networked fire alarm system. In this type of system, there are multiple control panels that are distributed on various floors of different buildings and all the panels communicate with each other. Networked fire alarm systems allow you to view the entire system from a central location.
Fire Alarm Monitoring
Improve your fire alarm system through alarm monitoring. When a monitored alarm goes off, a signal is sent to a central station where a live operator will alert the proper authorities. Fire alarm monitoring gives commercial building 24/7 protection from a fire, break-in or sprinkler activation.
Contact Davis-Ulmer for Commercial Fire Alarms
At Davis-Ulmer Fire Protection, we provide commercial fire alarm and detection systems for a variety of facilities across the Northeast United States. We can design and install alarm systems as well as provide ongoing inspections, service, and repair. The team at Davis-Ulmer also provides alarm monitoring services for commercial buildings so you can have peace of mind that your facility has round the clock protection. Contact Davis-Ulmer Fire Protection to learn more about commercial fire alarm and detection systems.