8 Important Life Safety Components
Life safety systems are made up of several components that are all designed to promote the safety of the occupants of a building. Having the proper life safety equipment in your building is important to protect your facility and the people in it from fires, break-ins, or other emergency situations.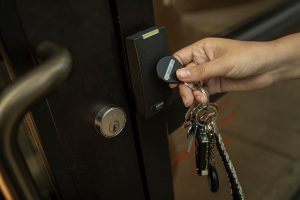 CCTV Security Systems

CCTV security cameras can keep an eye on your facilities to protect your property and help you see what is going on in and around your business.
Mass Notification Systems

These systems are used to keep people safe and informed in an emergency situation. Mass notification is used to communicate with a large group of people through text message, email or reverse 911 calling mechanisms.
Access Control

An access control system ensures that only authorized personnel are able to enter your business or certain areas of your facility. Typically, access control systems use ID cards to limit who can enter a section of your building.
Emergency and Exit Lighting

Emergency and exit lighting allow building occupants to safely exit a building, even when the power is out in your building.
Fire Extinguishers

It is important to have fire extinguishers placed throughout your facility to be able to extinguish small fires before they grow larger and more uncontrollable. And
Fire Alarms

Fire alarms are an important part of any life safety systems. Alerting building occupants of a fire early on can help save lives and allow people to safely exit a burning building.
Fire Suppression or Sprinkler Systems

Installing a fire sprinkler or fire suppression system is one of the best ways to make sure your property and the people inside are protected from fire. These systems suppress or extinguish a fire before it can cause extensive damage.
Alarm Monitoring

Monitored alarm systems alert the proper authorities when a fire or security alarm goes off. Alarm monitoring gives you peace of mind that your building is protected 24 hours a day, even when it is unoccupied.
Contact Davis-Ulmer for Life Safety Systems
Davis-Ulmer can provide life safety systems for your facilities. We install fire sprinkler, suppression, and alarm systems. We also can provide inspections and testing for your life safety systems to keep them functioning the way that they should be. Our team provides alarm monitoring service so that you have the peace of mind that your facility is protected around the clock. We serve the Northeast United States. Learn more about the life safety systems we provide by contacting us today.