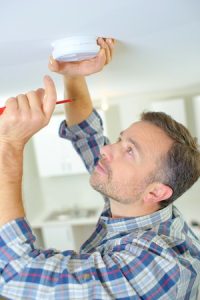 Spring is the perfect time of year to get a fresh start and take care of a few tasks around the office that you've been putting off, especially when it comes to fire sprinkler maintenance. If you own or manage any type of commercial property, you can take advantage of a number of preventative services offered by the team at Davis-Ulmer. There are a number of issues that may have cropped up throughout the winter, all of which we can identify and solve before they become a larger problem in your building.
ROUTINELY CHECK YOUR SMOKE DETECTORS
No matter what time of year it is, testing all of the smoke detectors throughout your building is a smart idea. This is especially true if you've noticed one has been beeping or you simply haven't inspected them in a while. Testing other alarms in your building, including CO2 detectors, can also be done at the same time allowing you to check several things off the to-do list at once.
GET A FIRE PROTECTION SYSTEM INSPECTION DONE BY THE EXPERTS
While inspecting the sprinkler systems around your building can be done any time throughout the year, having a professional look at them in the spring is typically a smart idea. That's because some systems are prone to freezing throughout the winter, especially if there have been several days where the temperature dropped below freezing. Inspecting your whole system in the spring allows you to check everything over for any signs of damage, allowing you to have peace of mind that if needed, they'll be ready to handle any fire problem.
REPAIR IF POSSIBLE, REPLACE IF NOT
If any aspects of your fire sprinkler system need to be repaired or replaced, the professional team at Davis-Ulmer can take care of the job in no time. Not only do we offer inspection and testing on all systems in your building, we can also install new systems as needed.
These are just a few of the reasons that spring is a great time to have a professional ensure your building's fire protection systems are in working order. Request a quote today from Davis-Ulmer or call the emergency service number in your area if you need immediate assistance. We are your full-service fire protection company serving New York and surrounding states.