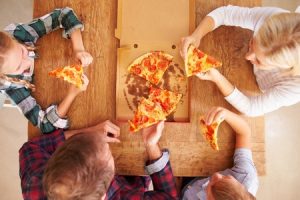 If you are a fan of Domino's Pizza, you may have already noticed the newest addition to the company's takeout pizza boxes – a flyer full of fire safety tips that reminds customers to check their smoke detectors' batteries when they turn their clocks forward for daylight saving time this weekend.
The flyer was created in conjunction with the National Fire Protection Association and will run throughout the month of March to help spread the word to families throughout the US.
CHECK YOUR SMOKE DETECTORS
With 38 percent of home fire deaths occurring in homes without smoke detectors and another 21 percent occurring in homes with dead or malfunctioning ones, it is extremely important to take time to check your smoke detector regularly and change its batteries when they run low. This simple check takes less than a minute of your time and could end up saving your life and the lives of the ones you love.
DOMINO'S PIZZA TEAMS UP WITH NFPA
For more than eight years, Domino's has been teaming up with the National Fire Protection Association to help prevent home fires, and this year we at Davis-Ulmer would like to add another item to your daylight savings to-do list. If you have not yet had your fire sprinkler maintenance performed this year, please take a few moments to schedule your annual sprinkler check-up.
Don't have a sprinkler system installed in your home? Spring is the perfect time to plan an installation. To learn more about Davis-Ulmer's services and to request a quote, visit us online or contact the location nearest you. We serve New York and the surrounding states.