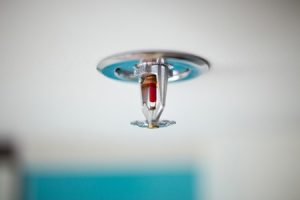 Here at Davis Ulmer, few things make us happier than when a sprinkler system saves the day. And just two days ago in Oxford, England a fire sprinkler system prevented an important piece of the historic area from going up in flames. On the morning of Monday, December 28, 2015, a refrigerator in Oxford's Covered Market set on fire, but was quickly put out by the Oxfordshire Fire and Rescue team – with the help of the shop's fire sprinkler system.
According to Rewley Road Fire Station Watch Manager Simon Piper, "If it not been for the sprinkler system, it is extremely likely that this incident would have spread throughout the Covered market, causing great loss to this heritage property and the local economy."
The Oxford Covered Market is home to a wide variety of shops and has an important place in the city's heart. This historical building would have been a tragic loss, which was thankfully avoided thanks to the safety precautions taken by business owners.
FIRE SPRINKLER SYSTEMS CAN HELP SAVE LIVES
Regardless of where you live or operate a business, a sprinkler system is an important way to protect yourself and those around you from a potentially dangerous situation. Accidents happen all the time and fires can spread quickly, destroying property and harming individuals nearby.
DAVIS-ULMER: HELPING KEEP PEOPLE SAFE SINCE 1946
With 2016 just a couple days away, Davis Ulmer encourages families and businesses across New York and New Jersey to have fire sprinkler systems installed or checked for annual maintenance. With eight locations throughout the area, we are happy to help keep your home or business safe. To learn more about our services and to schedule an appointment, contact the location nearest you today. We work with customers in the Northeast region of the United States.