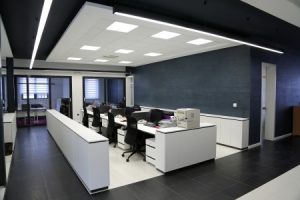 With approximately 6,000 office fires in the United States each year, having a fire safety plan for your business is absolutely essential. The three major causes for office fires are arson, smoking materials in areas where smoking is permitted, and wiring and appliance malfunctions.
AN EFFECTIVE FIRE SAFETY PLAN WILL HELP SAVE LIVES
In order to create an effective fire safety plan, you should first be aware of what your fire safety system already includes. Be aware of the number and locations of manual pull alarms, smoke detectors, fire extinguishers, fire doors, exit doors, and sprinkler outlets. Keeping these areas easily accessible is a vital part of making sure your fire safety plan works if and when it needs to. Regularly check for missing or broken safety equipment, malfunctioning exit lights, trash impeding exits, open fire doors, and blocked stairwells.
Fire emergency plans should take into consideration the unique features in each business site and be displayed at regular intervals. In the case of an alarm sounding, always treat it as an emergency, calling the fire department before investigating the source of the fire yourself. If the alarm is caused by a malfunction rather than a fire, be sure to call 9-1-1 in lieu of the fire department.
CLOSED DOORS HELP STOP THE SPREAD OF FIRE AND SMOKE
During evacuation, close doors to alleviate the spread of smoke and fire through the building. Avoid the use of elevators and establish an employee meeting place a safe distance from all entrances to the building.
Source: Office Fire Safety
Davis-Ulmer Sprinkler Company is your local fire protection expert that can work with you to get the fire protection you need.  We have been installing fire sprinkler systems for a variety of industries in New York and surrounding states since 1946.  Contact us today to find out more information about what we can do for you.