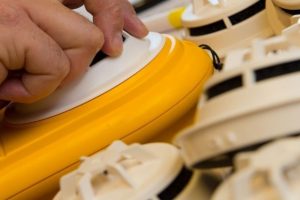 Being able to control who is coming in and out of your building is becoming more imperative today.  From security to access control, having the ability to monitor what is happening at the entrances of your facility is becoming more of a standard option.  There are many systems to help control the access to the facility and to see who is trying to gain entrance as well as monitoring what is happening inside of the facility.
Access control systems manage access to locations in a building through either a punch code, key card, fab, or several other different options.  These can help secure your facility from uninvited guests entering your facility without first getting permission.  This can be critical for the safety of the students inside the building.  They would either have to ask for permission to gain entry or have a school issued device that they could use to access the building.
Camera systems are another part of protection offered for schools.  They can help watch to ensure that staff and students are safe for whatever the reason.  They can identify who is at the door and catch incidents for documentation if the need were to ever arise.  They are also a big deterrent for theft and or anyone that wants to cause damage to the inside or outside of the school.
Monitoring systems are another protection system that combines many types of protection.  From cameras, alert monitoring, emergency response, mass notification/intercoms, to central station monitoring, there are many types of systems that can be used to help protect your students and staff.  Having a company that works with all these types of systems saves a lot of time and energy because if there is ever an issue, you only have one phone call to make and the problem will be fixed.  Also, if they are all tied together, then the systems will work hand and hand with each other to help alert staff and residents to anything that is going on.
At Davis-Ulmer Sprinkler Company, we are a full-service fire protection company that specializes not only in fire sprinkler and fire suppression systems, but also security systems, CCTV cameras, and monitoring systems.  We have NICET certified technicians that have the experience and knowledge it takes to set up your school with every monitoring systems it needs.  We also have a 24/7 emergency response team only a phone call away to help you if an issue ever arises with your system. Contact us today to find out how we can help your school get the protection it needs.