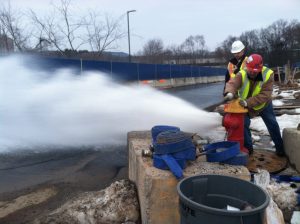 In today's world, many property owners and organizations are opting for fire suppression systems, which work much better and more quickly than the traditional fire hydrant. Water sprinklers can respond to a fire emergency in seconds, but many fire suppressants can put a blaze out quickly without creating water damage in a building.
Here at Davis Ulmer Sprinkler Co Inc., many of our fire response systems use chemical suppressants and not water to put out a blaze. In recent days, we've noticed that these chemicals are being used more and more, most notably by government agencies responsible for keeping citizens safe from infernos raging out of control.
THE IMPORTANCE OF FIRE PROTECTION SYSTEMS
This article published by KDLG.org reports that the U.S. National Forest Service, an agency of the Department of Agriculture, has greatly increased its budget for fire suppression technologies. What used to represent approximately 16 percent of the National Forest Service's budget about a decade ago has climbed to about 42 percent today.
One major reason cited for this increase in the fire suppression budget is that the National Forest Service is having to fight more fires than ever before. The agency faces a longer forest fire season now than in years past. More money has been going into fighting active blazes, including personnel and supply costs, and that has been at the detriment of maintenance, land management planning and other projects that can help the National Forest Service prevent forest fires.
Locally, there are plenty of property owners who should be looking at improving their fire safety systems. Davis-Ulmer Sprinkler Company offers a wide selection of fire suppression systems and services to fit residential, commercial and industrial applications. We are sure to have the perfect system for your needs.  Our NICET certified technicians will work with you to make sure all your fire protection needs are met.  We have installed fire protection systems for over 70 years.  Davis-Ulmer Sprinkler Company is New York's premier fire protection company.